ESWOCHY PROGRAMME
GRADING AND GRADUATION SPECIFICATIONS
The duration of the Programme is 2 years (120 ECTS). Students' workload volume of one-year is 60 ECTS and one semester is 30 ECTS: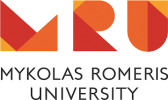 Mykolas Romeris University (LT)

Riga Stradins
University (LV)
Catholic University in Ruzomberok (SK)
ISCTE-University Institute of Lisbon (PT)
During the period of the Programme, each student is required to prepare a Master thesis and publicly defend it.
Internship "Scientific research practice"
Each ESWOCHY student shall complete Scientific research practice The internship shall be supervised by a professional social worker employed at the organization where the internship takes place, and have a duration of  1 month. Students can choose the internship placement from the prepared list social partners offered by Consortium universities or find placement by themselves, accomplish in their own country, in Consortium partners countries in EU members states, other European or non-European countries. Consortium partners have adequate arrangements for students' internship. It is organized according to the Internship Training Regulations for Students.
Before the internship, introductory lecture and seminars on Scientific Research Practice are organized. Students are introduced with internship tasks, methodical recommendations for an internship, selection of placement, internship documents (Student's Internship Training Agreement; Supervisor's Feedback Form), assessment and evaluation criteria. During seminars, students present Research Project which they will implement in the internship. The organization and coordination of student internship is the responsibility of internship supervisors of Consortium partners. Before the internship tripartite Student internship training agreement is signed by a student, legal representative of the organization, and Dean of the Institute / Faculty, and is registered in the Register of internship training agreements of a University. During the internship, students are supervised by supervisors at a university and in an internship placement. Scientific Research Practice and Master Thesis are closely related and include interconnected tasks: students are obligated to carry out pilot research, collect empirical data and/or search for any other relevant data and information for their thesis. Besides students prepare a research report, deliver the results and discuss proposals in the internship institution.  After completion of the Internship, students present Research report and reflect on experience gained in an internship in a workshop.
Additional requirements
The students admitted to the Programme that have different educational background than social work are required to take bridge courses during the first study year when they enter the Programme:
(a) Social Work Theory and Practice
(b) Methodology of Social Work
Completion of the Programme
The degree shall not be awarded to students unless they have: (1) gathered 120 ECTS within the Programme, (2) completed the four semesters of the Programme, (3) performed the compulsory mobility, (4) completed the internship, and (5) successfully passed the thesis defence.
Resits
Concerning the examinations, they are done according to local regulations of the concerned university and joint rules approved by the Governing Board. Joint deliberations are undertaken by videoconferences between Consortium Partners to unify decisions, especially in case of problems.